Social Media Glossary: Main Definitions & Terms
Introduction
Typically, social media marketing is utilizing every available social media platform to promote products and services. SMM is a perfect way for brands to reach out to new prospects and interact with existing ones. Most of the platforms are now a goldmine for developing and trying different techniques and strategies. Boost your customer engagement by providing useful information based on their demography, region and personal data. Cause it allows brands to create content that resonates with their audience. 
Marketers need to stay ahead of recent evolving social media marketing terms. In order, to stay relevant and meet the insatiable demands of their customers. Social media glossary is a must-have for coming to success on major social media platforms. Just imagine: you decided to run a store with Japenese candies. You want to make the first steps on social media marketing and advertising. You have some general knowledge on posting your posts on socials. However, it's not enough and you go on to Google to find the easiest strategies for newbies. The first article on the search and you see new words immediately. A moment and you struggled at the very beginning when you saw the "SMM" term. So this guide with the main social media terminology will be great for you.
Recognizing these standard abbreviations and phrases will make your business perform better and to be on the same line with trends. This is why we have compiled a unique social media glossary of common social media terms. These social media terms are a standard fit on these social media networks.
A • B • C • D • E • F • G • H • I • J • K • L • M • N • O • P • Q • R • S • T • U • V • W • X • Y
Abandonment rate 🛒
The abandonment rate is defined as the rate of the buyers online, who add the products to their shopping carts but didn't complete their purchase to the end. In other words, it is the percentage of interested prospective shoppers who exit the website without purchasing anything in comparison with the total quantity of carts made.
AMA 🗣
AMA is a social media term for "Ask Me Anything" a situation where an individual answers questions from other users. This social media acronym originates from Reddit and commonly referred to as an avenue for people to ask questions from an expert. AMA is commonly seen in social media platforms or online communities. Twitter users employ this acronym to invite followers to ask them questions probably when they are bored, encountering an unexpected circumstance or just feel like chatting.
Brandjacking 👺
Brandjacking is the unauthorized use of a company's brand. It is a process where the individual or business is assumed by another individual or business with the objective of getting the brand equity associated with the individual or business. Brandjacking comprises two different terminologies; branding and hijacking. It was first used in a publication in Business week which was released by MarkMonitor in 2007.
Although brandjacking is naturally the same as identity theft, cybersquatting or phishing, even in strategies. Brandjacking concentrates more on celebrities, politicians, or businesses and has a more indirect nature. A brandjacker could try to utilize the popularity of its target for personal purposes or to destroy someone's status. The purpose can be different, e.g. for political, campaigning, aggressive or malicious purposes. The purposes may not be financially related but affect the status of the original brand owner. In the result of which, could lead to a loss of finances or a good brand reputation. For instance, the sponsorship deal of a celebrity of a corporate body may be terminated due to a negative publication on social media.
Bio 📝
Bio, in actual, refers to Biography in the world of social media. It is something similar to a business card. For creating a distinct social media profile, the user needs to create a bio about themselves to give a precise idea of their personality to other users. Therefore, the bio of every individual needs to be unique but relevant. Advising the bio on social media assists in informing the brand's existing customers of the latest offerings, whereas introducing themselves to new and potential customers.
Caption 📱
This is a descriptive title used to communicate or pass information about an image. Captions are popularly used on Facebook, Instagram and other photo uploading social media platforms. Captions give users the avenue to employ the use of hashtags on their pictures.
Cashtag 💲
Cashtag is a new identification for people and companies. It was founded and generalized by StockTwists, which is a social network for tradesmen and backers. StockTwits utilized the term "Cashtag" to spark conversations and information on particular stocks. It allows users to press on the symbols of stock and get an idea of everything the Tweetdom (online members of Twitter) says about it, for instance, $GOOG, $FB, and $AAPL. It works the same as a hashtag but requires a "$" succeeded by the stock-tickers.
Chatbot 👾
Fundamentally, chatbots are pieces of the automatic messaging application that utilize AI to communicate with other individuals. Chatbots are designed to comprehend queries, give answers, and perform tasks. Therefore, from the perspective of a customer, they are user-friendly and conveniently save time. The greatest example is Messenger chatbots when you receive automated messages in order to get your desirable service or easily book the table in a restaurant.
Deflection rate 👩🏻‍💻
Deflection rate is the percentage of issues that are related to customer support and moved from social media to other channels of communication such as live chat, email or phone call. Any issue with a specific brand is moved from the context of social media because some customers usually prefer to resolve their issues using a better or faster communication channel. For instance, it might be difficult to resolve an issue using 140 characters on Twitter.
Direct message ✍️
DM or direct message is a particular mean of communication that is utilized by users of social media and can only be seen by the sender and receiver. The online business that wants to communicate with the buyers or customers uses DMs or direct messages to simplify the details of an order, answer questions related to the product, or solve conflicts privately. Every platform of social media allows users to send direct messages to each other.
Emoji 🔥
Emojis are images that are broadly utilized posts on social media platforms, such as, Facebook, Twitter, Instagram, etc. They were introduced at the beginning of the 20s by the Japenese Communication Company called NTT DoCoMo. From that moment, the use of Emojis have enhanced and are currently utilized throughout the world. Moreover, they show numerous kinds of objects, places, situations, emotions, and even humans in the shape of tiny images. That includes a coffee mug ☕️, couple kissing 💏, weather ❄️ and many more.
Engagement Rate 👀
Engagement rate is a social media metric that provides the percentage at which people interact with a post (shared, clicked the link and so on).
The percentage of engagement rate can be calculated as the number of users that interacted with a post divided by the number of people who saw the post and multiplied by 100%. A post with a high engagement rate indicates that users were motivated to interact with the post (or at the very least, respond to it). Engagement can be seen as the number of comments, likes, reactions, or shares.
Feed 💁‍♂️
Social media data/dashboard with multiple contents that are visible from other users. It can also represent the homepage on some social media networks or a stream of posts for engagement. A feed is also the format of data that is implemented to regularly deliver updated content to users which depends on the network. Examples are news feed on Facebook, RSS feed, social feed, web feed and so on.
Feeds on social media can also be clarified as Twitter Walls that gives an individual the ability to post social contents or events on a public wall. The search feature on social media platforms can be used to discover feeds that contain comments and images on social platforms like Instagram or Twitter.
Filter ✅
Filters on social media networks are actually, used to alter the images. Filters contain changing colors, themes, eraser tools, rewind features, including hashtags, location stickers, and much more. This way, users can make their pictures more mature and artful. Though filters are famous among the users to make their pictures look fun and hippy, they are not professional for the brands that offer their products or services on social media. A lot of examples of filters can be provided. We have our special filters for sorting data as well 🙂
Geotagging 🌎
Geotagging is the process of including geographical information or identification to various media like a video, image or link. This information makes up of the longitude and latitude coordinates or sometimes the altitude bearing, accuracy information, distance, name of the location and probably timestamp.
Users can discover several types of information that are specific to a location from a device through geotagging. For example, images that are taken close to a location can be discovered by providing the longitude and latitude coordinates into a search engine for images. News, links and many other resources can be also be discovered through geotagging dependent information. Users through geotagging are now able to discover the location of an image's content or any other media type and some social media platforms also display the media that are related to a specific location.
Geotagging images on any other media type can be done by obtaining the GPS data during the period the image was taken or linking the image to a map when taken.
A device with a built-in GPS function and a digital camera is therefore required to obtain the GPS information. This is used by service providers to acquire accurate information about the specific location.
GIF 🐸
GIF or Graphical Interchange Format was introduced by Steve Wilhite in 1987. It is basically in the format of the animated images in the smallest size. In a nutshell, GIF is a set of pictures or inaudible videos that runs constantly and does not need the user to click on play. This repeating makes a GIF feel instantly familiar and easy to the user. My favorite website for making gifs is Giphy.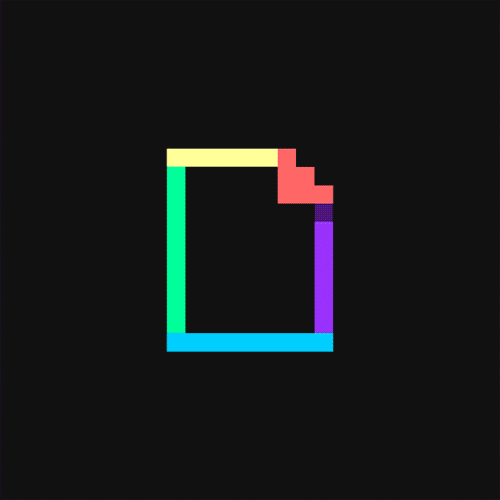 Hangout 📯
Google Hangout is a tool that lets your organization hold video or audio conferences, perform webinars, and press conferences as well, and that too, without any cost. Google Hangout hosts online with the use of webcams on mobiles, laptops, and tablets, so the attendees may see, listen, and talk to other people as well. The company only needs to invite people for the meeting at a specific time to communicate. You can invite up to 10 people at a time; however, an infinite number of individuals may view, add comments, raise questions during the session.
Hashtag ️️💯
Hashtags are an easy way to point the topic (or topics) of social media posts for fast reach for people with shared interests. It is usually a word or phrase preceded by #.
Hashtags are kinds of metadata tag implemented on social media platforms like Twitter, Instagram to enable users to include a dynamic, personalized tagging which allows other users to easily locate the post using a particular content or theme.
Hashtags are created by using the number or pound sign "#" followed by a word or phrase in a message. Hashtags can contain digits, letters or even underscores. When searching for a hashtag, the result also shows the message that was also tagged with the hashtag. A group of hashtags will then be generated in a single stream under similar hashtags. For instance, the hashtag #glossary or #socialmediaglossary will let users discover all the contents that were tagged with that hashtag.
Inbound Marketing 🎯
Inbound marketing is a marketing type that focuses on using social media marketing, content marketing, search engine optimization blogging, and branding techniques to attract customers to products and services. Inbound marketing is basically a permission-based type of marketing that is used to generate leads and convert them. The entire process can also be evaluated.
Inbound marketing focuses on providing high-level customer experience and makes an attempt to build a relationship and subsequently trust by providing value to potential customers through branded blogs, newsletters, and bodies on social media networks.
The relationship between a brand and a customer is reversed in inbound marketing when compared with outbound marketing.
Outbound marketing focuses on promoting the product across various channels while inbound marketing creates customer awareness, draws in prospects by utilizing channels such as blogs, social media platforms and so on.
Inbound marketing requires a certain procedure to perform properly but has proven to offer a competitive advantage in contrast with outbound marketing. The procedure, however, makes up of four steps which: attract, convert, close and delight, and generate more website visitors, increase conversion rates and boost the number of leads and potential customers.
Influencer 🧁
The influencer on social media is someone who has earned trust and reliability on a particular platform. They have a huge amount of followers and audiences, and therefore, they influence them with the help of their reach and originality. Also, they post regularly about the things their audience pays attention to. Brands prefer influencers since they come up with trends and motivate their audience to purchase products from a specific brand.

Related: The Ultimate Guide On How To Find Brand Influencers
JOMO 🏝
JOMO is an acronym that means the "Joy of missing out".
JOMO was developed from FOMO the "fear of missing out" by Anil Dash, the blogger, and CEO of the software company, Glitch. It describes the joyous feeling of skipping an event in order to experience a personal quiet time or spend time with loved ones.
JOMO has developed into a common norm in the social media and marketing world where researchers have shown that many find it difficult to remain unattached from their social media profiles, email or communication even during vacation.
This resulted in a more adoption of JOMO (the joy of missing out) which has thrilled many into taking a break from social media, email communication, and other channels.
Key Performance Indicator (KPI) ⚖️
Key performance indicator is a kind of performance metric used in evaluating the successful engagement of a brand or a task such as programs, projects, and so on.
Success with regards to the continuous repetitive achievement of an operational objective such as full customer satisfaction with zero issues. It can also be in terms of progressing closer to set objectives. Selecting the appropriate KPIs depends on a comprehensive understanding of the important parts of the brand. The significant part also relies on the team assessing the performance. For instance, the KPIs beneficial to sales will differ from the KPIs useful for finance.
Several methods are used to evaluate the current condition of the business and the major activities are linked with choosing the best performance indicators since proper understanding is required. The evaluation sometimes leads to the recognition of possible advancements which implies that selecting performance indicators are sometimes linked with performance effectiveness initiatives. The application of a management framework known as the balanced scorecard is a prominent way of selecting KPIs.
Lurker 👁
A lurker is often a user of an online forum or community who only monitors or observes without taking part.
The term "lurk" was initially used in the 14th century to refer to an individual who is in hiding for a negative reason. However, the word was eventually applied to the internet due to the popularity of the bulletin board system in which users would call when trying to upload files or post comments. But since lurker's phone are usually very busy without participating, they would end up being barred by the system operator.
Lurkers often take up a large percentage of the members in online communities. The act of lurking enables users to become aware of the activities of an online community before getting involved which will enhance their method of socialization after de-lurking. Loneliness or apathy usually arises among lurkers that do not participate for a long time.
Lurkers are known to employ different usernames as well as browsers, nonpublic participants, vicarious learners, legal peripheral participants or read-only participants.
Lurkers usually decide to lurk for several reasons. Some lurkers only want to enjoy their browsing experience. Some users also decide to lurk in order to discover guidelines to follow before getting involved so as to avoid making unnecessary contributions but become knowledgeable about the topic of the conversation.
Some studies have discovered that lurkers in HIV/AIDS communities usually become energetic than posters. Lurking also benefits students in online courses which will allow them to discover the appropriate post to reply to and even obtain adequate knowledge about the topic.
Microblogging 🧩
Microblogging is publishing precise posts and frequently updating online. They are conventionally posted on social media platforms. In other words, it is a service, which lets the users transmit short and precise messages around 140 to 200 characters to another user of the same service. The microblogging is famous for being influencing and portable. Microblogs are published as text, videos, or even audios.
Multichannel attribution 🌐
Multichannel attribution is the process of recognizing the most appropriate marketing channel that will generate a sale and attributing the suitable credit to each of the marketing channels for its part in the sales process. It is a group of rules used to provide credit for income and sales to every information on a point of engagement throughout the consumer journey. The point of engagement can also refer to what, where who and when of a purchase.
Attribution also relates to the procedures and regulations used to designate worth throughout several channels and points of engagement. The amount of income is typically the worth designated to the points of engagement.
Conversion credits can be designated to points of engagements as well. Conversion refers to any worthwhile activity. Creation credit can be assigned that will inform you of the number of leads that are generated from a set of touchpoints.
The major reason for this attribution is to enable marketers to become aware of the marketing activities that impact income and conversion. Therefore, in the absence of attribution, we would only be having a large table of data that would offer insights into the amount of value that is generated from a marketing procedure.
Newsjacking 🌋
Newsjacking (or trendjacking) is the process of taking advantage of the reputation of a breaking news story by injecting your ideas in order to boost the success of your marketing and sales. Newsjacking is also a process of including a brand with a prominent event in order to increase the exposure of the brand. Companies develop relevant social posts and blog contents to immediately reach more audience. Even though newsjacking initially began as a PR strategy, it has developed into digital content activities and inbound marketing.
Newsjacking became popular through a book released by David Meerman Scott; "How to Inject Your Ideas into a Breaking News Story and Generate Tons of Media Coverage". Scott explained in the book that PR techniques of distributing press releases are not effective in this present age of instant communication and regular news updates. Breaking news usually goes viral in an instant and aligning into news stories at a precise time using the proper content strategy can develop free media coverage for a brand.
Newsjacking can be pre-planned according to the forecasted events in politics, sports, health and so on or can simply be a response to a breaking story. Another strategy is to keep an eye on news media, even in areas that are outside the brand's industry.
Social media techniques and web content management are required for brands to take full advantage of newsjacking which will allow them to instantly release and at the same time make sure that the content has a unique association with the brand and closely relevant to the event. keywords are usually employed by companies to drive organic search traffic to the content which will also be advertised on social media platforms. However, if newsjacking is improperly done, it will seem exploitative and insensitive especially in news stories that are controversial or destructive.
Omnichannel marketing 📡
Omnichannel means the multichannel sales method, which offers the user an aggregated experience of shopping. The users can shop online using a computer or mobile phone, and the experience they get is persistent. Therefore, the brand needs to recognize its most important omnichannel buyers and their online shopping pattern. In order to do so, the brands messaging and data sources require to be in sync over multiple channels. This becomes important for brands to provide users with perfect and customized messages to their clients.
Organic reach 🍓
Organic reach is the total number of people that your post/content is shown without any paid promotion.
The number of reaches is a very important metric in social media and website analytics when determining the number of prospective engagement that can be generated. High post visibility implies high possibilities of engagement which makes discovering effective strategies that will boost organic reach very important for marketers. Although the number of followers and likes you have also have is a significant factor in determining your prospective organic reach.
Permalink 🌝
A permalink, also known as a permanent link is a URL of a specific post on a website meant to be unchanged indefinitely. Permalinks are usually designed to be user-friendly so that users can easily remember and type them. These links are also supported by many recent blogging platforms and content management systems. These links are also created with link shorteners.
Permalinks are beneficial for contents that must be referenced outside the original website. Creating permalinks is a prominent technique utilized by website owners to encourage users to save their weblink with extended life for reference.
Quora ⌨️
Quora is an interactive online community in America where online members ask and answer questions or provide opinions.
Quora has the intention of making sure that users provide credible answers to questions. In this light, it requires users to register using their full name although there is no verification for this. Quora also enables members to create profiles using their photos and other sites use metrics that can be set as private. Quora typically provides its members' profiles on search engines. However, this feature can also be disabled by the user.
Quora provides answer recommendations to users on their timeline according to their preferences and a daily digest where emails containing a couple of questions with an answer is sent to user's email daily.
Quora developed a new feature in November 2018 called Spaces. Spaces can be compared to Reddit's subreddit where users can create and share content relevant to the topic or subject of the space. Space can also have its followers, moderators, contributors, and administrators.
Retargeting 🛍
Retargeting, also regarded as remarketing is an online advertising strategy with the main goal of reengaging and converting generated leads that previously left the website. Retargeting is an excellent method of improving brand awareness in a digital store by being at the top in the mind of consumers after they have left the website. Retargeting enables a brand to concentrate its advertising strategies on prospective customers that already have a certain level of interest which will ultimately improve RoI.
It begins through a small embedded JavaScript code fragment in the brand's website that drops an anonymous cookie which can be used to retarget the users when they visit other websites, blogs or search engines as well as ensuring the ads are served to those who had already visited the website.
The main objective is to give another opportunity and exploit the interest of these visitors into making a sale. Advertising here is focused on website visitors or prospects rather than spending ads budget on strangers which is the reason many marketers employ this method to observe a higher RoI compared to other digital channels.
Share of Voice 💅
Share of voice is the number of mentions a certain brand is able to generate compared to its competition on social media. Share of voice is typically measured in percentage of the entire mentions within a defined market or within a set of competitors.
Share of voice is used to measure brand awareness or exposure and determine the degree of visibility of a brand in a particular medium among a particular audience. Basically, share of voice keeps track of what people say about your brand and its competitors. This is used by marketers to have a big picture of the market opinion and competitive landscape of the brand in order to give the brand an edge.
Knowing your brand's share of voice can also provide insight into the challenges and the brand's position in the market which will provide awareness on how to develop the brand and entice prospects. Some of the metrics that can be used to estimate a brand's share of voice are impressions, reach, hashtags, organic keywords, pay per click, revenue and so on.
Keeping track of a brand's awareness daily is very important because many online users interact with several brands every day. A trick to increase the content about your brand on social media is to remain memorable through social interactions and repetitions. The more your visitors see and interact with your brand, the more likely they are to create content and have the brand on their mind. An excellent method brands use to increase their share of voice on social media is to make their customers happy by providing value.
Tag 🙋🏻‍♀️
A tag is a social media feature used to engage the profile of an individual or business when they are mentioned in a social post. This feature notifies the profile(s) of the tagged members in the post and creates a link back to their profile. This practice is common on Facebook and Instagram although a similar feature on Twitter requires a hashtag or simply tweeting at the profile.
Timestamp 🕔
While the date along with the time of some event is reported, then it means "timestamp." In other words, the digital camera records the time and also the data of a photo when it's taken, whereas, a computer records the time plus date of a file that is being edited or saved. Also, a social network post could contain day and time reported. These are instances of timestamps.
Further, they are essential for maintaining records while data is being communicated, made, or even deleted on the internet. In most instances, the records are just beneficial for the users to have an idea of because timestamps are a lot more helpful.
User-generated content 👨‍💻
User-generated content (UGC) which is also regarded as user-created content (UCC) is any content from photos, videos, blog posts, quotes, audio, etc that are posted on social media platforms by consumers. User-generated contents have several functions such as processing problems, advertisement, news dissemination, research, entertainment, and gossip. It encourages the free publishing of information used to promote a brand and increase brand awareness.
User-generated contents focus on the customer's contribution to a product instead of the brand's input about that product. these contributions are sometimes very unique where the customer would include a bit of creativity than the original content which will be published online and available to other users.
Marketers use user-generated content to promote their brand by creating campaigns that will be advertised by their customers. This will enable brands to interact with their customers on a human level as many of them prefer to patronize brands that have built a relationship with other customers and can vouch for their products.
Most brands use Instagram for user-generated content where users share content about a brand's product and services to other users. The main objective of sharing these contents with other users is to enhance the brand's credibility.
Vlogger 📹
A Vlogger is a person who creates and promotes a story or information through video blogs. Vlogs also known as video logs are used to distribute video across the internet. Vlog collections can be recorded into one or multiple categories. A popular blogging platform available online is YouTube.
Vloggers use vlogs to promote their personality and business and educate their audience by providing video tutorials, news, information, and so on. It is one special method individuals employ to provide any kind of information with its ability to offer visual insights and provide a deeper sense of imagery that is difficult through written blogs.
YouTube is one of the topmost visited websites on the internet today making it a space for vloggers to receive high traffic and exposure which in turn has promoted many brands and personalities on the online platform. YouTube also offers a partnership program to vloggers which provides incentives for video production, extra exposure, and credibility.
Webinar 🕸
A webinar is a combination of two words which are "website" and "seminar". It is a presentation or seminar hosted online by a brand or an individual. In most cases, the host of the webinar will require a form to be filled out by participants before they can access and stream the slides and audio of the presentation right on their computer. Webinars are often created in marketing to discuss a topic that will be further discussed on social media using the unique hashtag of the webinar with the aim of creating awareness and increasing engagement.
YouTube 🧝‍♀️
YouTube is an online platform that allows users to upload share and view videos. Content types available on YouTube are music videos, clips of TV shows and videos, documentaries, movie trailers, audio recordings, live streams, educational videos, and video blogs. YouTube allows registered users to upload and subscribe to other users while unregistered users can only view videos. It is among the top three most visited online platforms on the internet today. YouTube is the greatest channel to perform your marketing and find influencers.
Sign up to Fammio today and organize your SMM effectively!
Grow your brand visibility, analyze social media share of voice and follow the latest online conversations and trends with smart dashboards.