10 Best Social Media Analytics Tools For 2020
An essential component of the social marketing manager's work is social media analysis. After you post something, you want to see how the audience involved with your posts. But without watching the perfect picture you won't be able to see it without diving into your social media analytics. You will find yourself blind to the expertness of your social media marketing strategy. Analyzing the performance of your profiles is crucial to ensuring exactly how effectual on social media your brand is.
There are many tools in the market, all of them are offering something unique.
Keep tracking mentions of your brand, key social discussions and conversations. Enroll in all online discussions easily. Locate web and social media platforms where your brand is pointed out most regularly.
Learn people's needs to research a market fit. Compare and publish your competitors' marketing strategies with your strategy. Investigate and learn the weakest and the strongest points of competitors to best present your product and use them.
Measure the share of voice and main content of discussion with Analytics feature.
Learn the competitors' performance on the graph of variables.
Perform better and learn trending topics and make your own analysis of what topics are more interesting for your audience.
Price: Famm.io is a free tool. Unlimited plan for $99.

This is a social media platform analytics tool straight away. It brings together data from several social media networks into one report. It helps greatly in evaluating social media platform strategy.
Platform coverage: focus strategy of your marketing on video content. Like, statistics of youtube channel.
Competitor Analytics: this tool measurements Facebook page, YouTube channel, Instagram business profile, and Twitter account.
Ads analytics and: connects Facebook ads account, gets ads detail report, sets ad and sets campaign.
Influencer analytics: overall performances of the influencers on social media can be tracked.
Price range: $29- $1499.
The tool which analyzes your online data collected from other people's profiles is Awario. It is a social media listening tool. This tool collects data dependent on the keywords you gave. These may be the name of your brand, niche terms, handles of social media, key person names and many more.
Awario has a great measurement toolset that points out positive and negative feedback with sentiment analysis. It also shows the most well-known words used alongside with your selected keywords in the subject cloud.
Awario works with several platforms. You can analyze your platform data from several Internet sources like Facebook, Twitter, Instagram, YouTube, blogs, Reddit, forums, news sites, and the web.
Price: The trial version is available. Prices start from $29 to $299/month.
This tool is designed to be you all in one center for controlling social media. It allows you to plan for social posts, analyze your overall performances, and even keep track of hashtags and several keywords (even though its tracking capabilities are very limited in comparison to a specified tracking/monitoring tool).
Agorapulse has powerful analytics features. It provides you the perfect view of social media platform performances.
Different analytics for Facebook, Twitter, Instagram and LinkedIn.
This analytics tool shows graphs necessary for knowing your own social media platform data including how quickly your group is growing, engagement, reach, etc.
Price: It has a free trial version. After a free trial, it will cost $99-$399 per month.
Google Analytics gives users insight into how your website is discovered and used and is a free analytics service for the website, provided by Google. You may monitor ROI for your own online market strategy by using Google Analytics. With a variety of dimensions, you can test and pick your audience. You can seamlessly integrate Google products like your advertising account and search console.
Tracking codes can be also used to tag and track any ad, publicity promotion, social or any type of advertising campaign on any platform or website.
Google Analytics classifies data into the ABCs:
Acquisition: acquisition relates to how you can get website traffic.
Behavior: the behavior actually reports what your website visitors are doing.
Conversions: the Conversion segment of Google Analytics to understand how people convert on your website.
Price: As I mentioned in the article "Google Analytics" is free of cost.
One of the oldest social media network tools in the market. Falcon manages direct messages, scheduling posts, collecting social media network listening data and track your own performances.
One of the oldest social media network tools in the market. Falcon manages direct messages, scheduling posts, collecting social media network listening data and track your own performances.
Analytics with customizable reports that measure community engagement with your posts.
Measure content performance across the internet
Price: If you want to purchase falcon you've to contact falcon authority for pricing information and they'll organize a demo for you.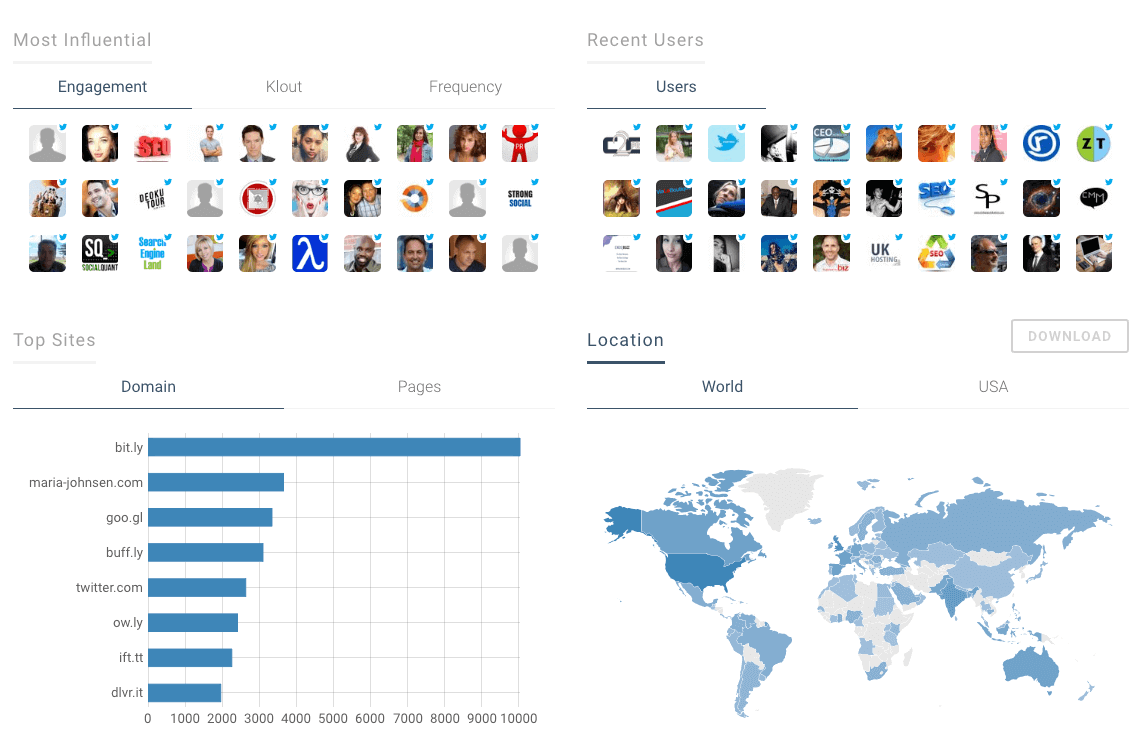 A social media network analytics tool that usually brings together data from Facebook, YouTube, Twitter, Instagram profiles with data evaluation of social-media.
Powerful analytics which is easy to navigate.
Keyword and hashtag tracking.
Trend analysis and AI to anticipate hashtag performance.
Social analytics API.
Price: Free trial is available. After free trial pricing starts at $199/month.
An exceptionally interesting social analytics platform is Quintly. This is the first and primary aim for giving valued insights for set up brands and companies.
Automate analytics reports to get the right and fresh data of your performance.
The deepest analytics on social media data to Google Big Query, Looker and Tableau.
Facebook, Twitter, Instagram, YouTube, LinkedIn Analytics and even Snapchat Story Studio Analytics.
Price: Quintly usually offers custom plans which start at $300/month.
This is a highly effective and reasonably priced tool that analyzes social media records. It works with the most well known social platforms: Facebook, Twitter, YouTube, and Instagram.
Complete social media analytics in one dashboard.
Customizable scheduled reports.
Complete actionable tips work with analytics.
Price: It has a 14-day free trial. It has 4 plans. The cheapest of all is a bronze plan which costs $50/month.
The tool applies many emphases on rival analysis. Moreover, it analyzes the efficacy of your brand on Facebook, Instagram, YouTube, Twitter and Pinterest.
Instagram and Facebook insights.
Analyze social ad performances.
Social media listening and boost post detection.
Google Analytics integrations.
Price: 14-day trial version available. Price started from $199.
What are your best social media analytics tools?
Let us know 🙂
Don't hesitate to write your favorite tools to valerie@famm.io.